Cindy's poem "Still, Above Grass" was one of 20 poems from the Divining Dante anthology chosen to be included in The Poetry Jukebox, a European street art project, with poems for listeners to hear. Cindy recorded it in Michigan and it's now accessible through The Poetry Jukebox itself in Dublin.
Cindy's poem "Pointillism" was included in the "Art of Days" calendar featuring Michigan poets.
Saturday, June 24, 2023 | 12 PM – 3 PM | 5th Annual St Clair Shores Lit Walk by the Lake | Blossom Heath Park | 24800 Jefferson Ave | St Clair Shores, MI 48080 | FB Event link
Friday, April 28th  |  1-3 pm & Tuesday, May 2nd  | 10 am-12 pm Two-Part Memoir Writing Workshop for SOAR Lifelong Learning Institute SOAR  c/o The Hawk Community Center 29995 W. 12 Mile Rd.  |  Farmington Hills, MI 48334
Monday, April 3rd | 6-7 pm "The Art of Joy: Poetry as Pleasure"
Author talk, reading, and writing prompt. Brandon Township Public Library 304 South Street | Ortonville, MI 48462
March 16, 2023, 7:00 p.m. Cindy read at the Huntington Woods Library | 26415 Scotia Road in Huntington Woods, Michigan, 48070.
Pink Panther Presents and DWGuild Bring You a Virtual Poetry Reading on March 8th, 2022 at 6:45 p.m., Featuring Zilka Joseph, Joy Gaines-Friedler, Cindy Frenkel, and Jenifer DeBellis. Tune into this event via Facebook live streaming at www.Facebook.com/JeniferDeBellis or request a private invite to attend the Zoom session (in the FB comments section or by direct message).
Cindy, along with Theresa Lin and Nathaniel Berry, read during Columbia University's "Columbia Selects" at 7pm EST on December 9th via Zoom. Columbia Selects is the Writing Program's storied alumni reading series. Watch here.
Cindy was interviewed on August 30, 2021 by The New York Corner's Literary Parrot. Watch it here.
Cindy will be at The Book Beat from 1:30-3pm on Sunday, August 15th, along with other authors, to celebrate Book Beat's 39th anniversary. Learn more here!
On August 8th, 11am-2pm, Cindy will be at an outdoor Summer Book Bash to kick off the 70th Anniversary Season of the Detroit Jewish Book Fair at the Jewish Community Center on Drake Road in West Bloomfield.
Cindy's article "Teaching Classic Lit Helps Game Designers Make Better Stories" is live on WIRED. Read it here!
Jenifer Smythe DeBellis interviewed Cindy on Pink Panther Magazine's, PPM's AUTHOR TALK, Live-podcast-vlog.
Cindy spoke via Zoom at the Jewish Book Fair on Tuesday, December 8th, 2020. View it here!Cindy read with the acclaimed poet Molly Peacock, as well as Dawn McDuffie and Christine Rhein, for ML Liebler's online series, The Living Room, on Sunday, July 12th 2020. Watch it here!
Cindy and her new book of poetry were recently featured in The Jewish News. Read the article here.
To learn the backstory about the book Plague of the Tender-Hearted, please read Linda Sienkiewicz's blog where she asks Cindy "What, Why, and How."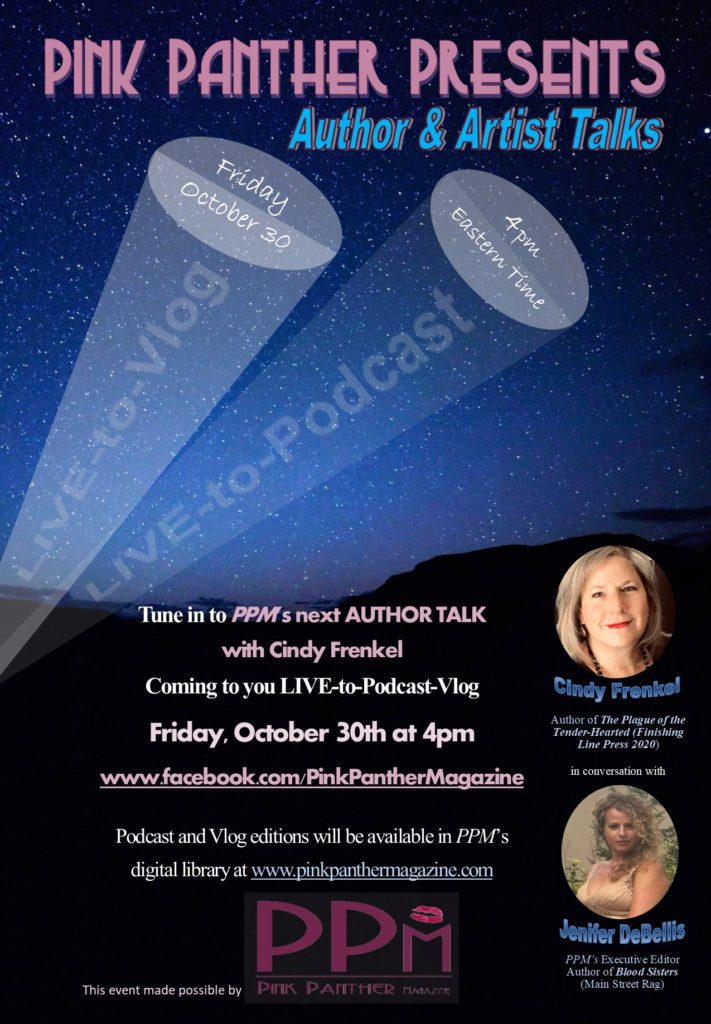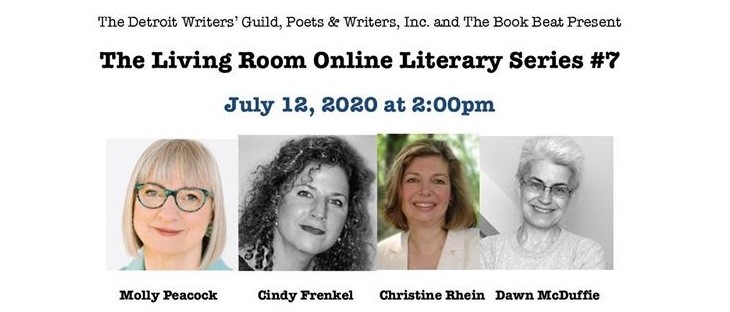 Cindy read with the acclaimed poet Molly Peacock, as well as Dawn McDuffie and Christine Rhein, for ML Liebler's online series, The Living Room, on Sunday, July 12th at 2 p.m. Watch it here!
Come One Come All Next Thursday in the D at The Aretha at The Music Hall (formerly The Jazz Cafe) with Poets Cindy Frenkel, David James, Bethany Schyrburt & Dog Latin. Starts at 7:00 p.m. Find out more on Facebook.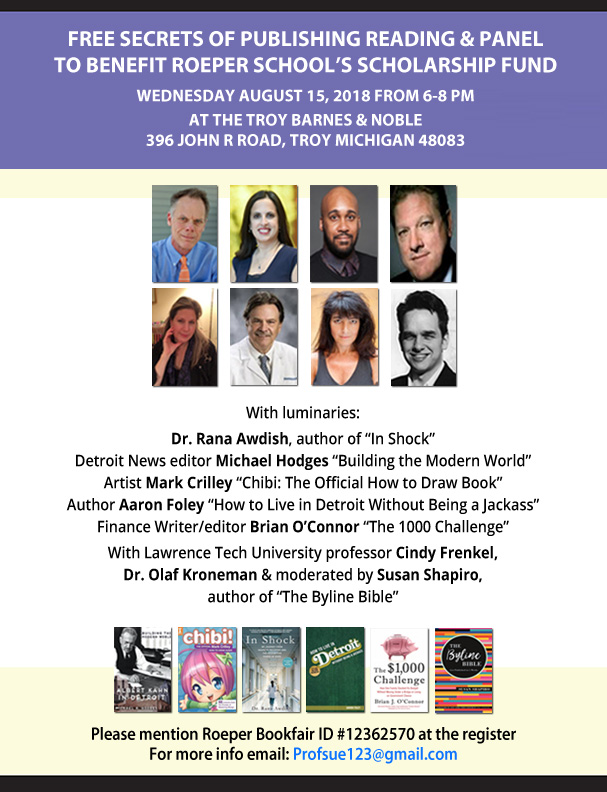 Frenkel is one of the contributors reading for the Peacock Journal on Tuesday, January 23rd, 2018, from 7:00-9:00 at the KGB Bar at 85 E. 4th Street in Manhattan.